Item 7: Nelson Tasman Regional Landfill Business Unit General Managers Update Report.
Present: Nelson City Councillor J Edgar (Chairperson), Nelson City Councillor M Courtney, Tasman District Councillors T Walker (Deputy Chairperson), S Bryant, and Iwi Representative A Stephens
In Attendance: Group Manager Infrastructure (A Louverdis), General Manager Regional Services (N Clarke) Tasman District Council Team Leader Stormwater, Rivers and Waste Management (D Stephenson), and Team Leader Governance (R Byrne)
Apologies : Nil
Karakia Timatanga
1. Apologies
2. Confirmation of Order of Business
The Chair had been advised that some members were in transit and delayed the start of the meeting to allow their attendance.
3. Interests
There were no updates to the Interests Register, and no interests with items on the agenda were declared.
4. Public Forum
There was no public forum.
5. Confirmation of Minutes
5.1 10 December 2021
Document number M19152, agenda pages 6 - 11 refer.
Resolved RLBU/2022/001

That the Nelson Tasman Regional Landfill Business Unit

1. Confirms the minutes of the meeting of the Nelson Tasman Regional Landfill Business Unit, held on 10 December 2021, as a true and correct record.

Walker/Bryant Carried
6. Chairperson's Report
Document number R26773
There was no chairperson report.
7. Nelson Tasman Regional Landfill Business Unit Quarterly Update Report
Document number R26736, agenda pages 12 - 22 refer.
General Manager Regional Services, Nathan Clarke, presented the report and advised that during a weather event in February the stormwater ponds had exceeded capacity for a short period, and while minor this was deemed a non-compliant event by NCC's regulatory department. During the same event there was movement in an existing landslide, however this had since been remediated.
Mr Clarke answered questions on the primary and backup compactor, gas flares, use of landfill gas and staff capacity.
Resolved RLBU/2022/002

That the Nelson Tasman Regional Landfill Business Unit

1. Receives the report Nelson Tasman Regional Landfill Business Unit Quarterly Update Report (R26736).

Courtney/Bryant Carried
The meeting adjourned from 10.36a.m. until 10.41a.m.
8. Nelson Tasman Regional Landfill Business Unit Business Plan Feedback Report
Document number R26737, agenda pages 23 - 44 refer.
General Manager Regional Services, Nathan Clarke, presented the report and advised that an incorrect percentage increase in landfill charges had been included when the Business Unit had adopted the Business Plan for circulation to both councils, it should have been 15%. This had been corrected prior to approval by the councils and the amended officer's recommendation reflected this.
Resolved RLBU/2022/003

That the Nelson Tasman Regional Landfill Business Unit

1. Receives the report Nelson Tasman Regional Landfill Business Unit Business Plan Feedback Report (R26737) and its attachment (A2796488); and

2. Notes that the 17% increase in landfill charges for 2022/23 were subsequently corrected to the fees as outlined in the Nelson Tasman Regional Landfill Business Unit Activity Management Plan 2021-31; and

3. Approves the Nelson Tasman Regional Landfill Business Unit 2022/2023 Business plan (A2796488), subject to minor changes approved by the Chairperson; and

4. Recommends the Nelson Tasman Regional Landfill Business Unit Business Plan 2022/23 (A2796488) be presented to the Tasman District Council and Nelson City Council.

Edgar/Courtney Carried
9. Exclusion of the Public
Resolved RLBU/2022/004

That the Nelson Tasman Regional Landfill Business Unit

1. Excludes the public from the following parts of the proceedings of this meeting.

2. The general subject of each matter to be considered while the public is excluded, the reason for passing this resolution in relation to each matter and the specific grounds under section 48(1) of the Local Government Official Information and Meetings Act 1987 for the passing of this resolution are as follows:

Bryant/Stephens Carried
Item

General subject of each matter to be considered

Reason for passing this resolution in relation to each matter

Particular interests protected (where applicable)

1

York Valley Landfill Gas Energy System Purchase Update

Section 48(1)(a)

The public conduct of this matter would be likely to result in disclosure of information for which good reason exists under section 7

The withholding of the information is necessary:

· Section 7(2)(b)(ii)

To protect information where the making available of the information would be likely unreasonably to prejudice the commercial position of the person who supplied or who is the subject of the information

· Section 7(2)(i)

To enable the local authority to carry on, without prejudice or disadvantage, negotiations (including commercial and industrial negotiations)
The meeting went into confidential session at 11.15a.m. and resumed in public session at 11.55a.m.
10. Restatements
It was resolved while the public was excluded:
| | |
| --- | --- |
| 1 | York Valley Landfill Gas Energy System Purchase Update |
| | Agrees report (R26720), attachments (A2855874, A2855875) and decision remain confidential at this time. |
There being no further business the meeting ended at 11.55a.m.
Karakia Whakamutanga
Confirmed as a correct record of proceedings by resolution on (date)
Nelson Tasman Regional Landfill Business Unit
27 May 2022
Report Title: Nelson Tasman Regional Landfill Business Unit General Managers Update Report.
Report Author: Nathan Clarke - General Manager Regional Sewerage and Landfill
Report Number: R26894
1. Purpose of Report
1.1 This report is an update by the General Manager (GM) on activities and finances to 31 March 2022, and on operations to 30 April 2022 by the Nelson Tasman Regional Landfill Business Unit (NTRLBU).
That the Nelson Tasman Regional Landfill Business Unit
1. Receives the Nelson Tasman Regional Landfill Business Unit General Managers Update Report. (R26894); and
2. Notes that a report to approve projected carryovers from 2021/22 to 2022/23 will be presented to the first Nelson Tasman Regional Landfill Business Unit Board Meeting in 2022/23
3. Background
3.1 There have been no significant safety incidents since the last NTRLBU Board meeting, and improvement to vehicle management has been implemented.
3.2 Operations are generally running well, however the landfill compactor(s) have been a source of difficulty during this time.
3.3 Following H&S investigations from the last quarter ongoing attention is being paid to ensuring that vehicle movement plans, and crew briefing plans are being completed daily by the contractors onsite. Changes have been made to traffic management and a staff member is now onsite to direct and control traffic at the landfill face.
3.4 The facility is working under COVID19 Orange light rules. Staff are RAT testing regularly. The facility work streams are remaining separate from each other. Critical staff remaining in separate bubbles.
3.5 The stormwater pond 3 permanent flocculation system has been installed and is in operation. Stormwater pond (SRP 1) will be usable in approximately 4 weeks.
3.6 An existing slip on the eastern side of Gully 1 alongside the landfill mobilised during heavy rain in February 2022. This has been repaired and NTRLBU have begun stockpiling fill on this area for the buttress construction.
3.7 The overflow of dirty water to York stream for 4 hours during February caused by the slip and failure of a temporary pump, resulted in an infringement notice and $750 fine being issued to NTRLBU by Nelson City Council.
3.8 A site wide earthworks consent has been granted which allows NTRLBU to implement the airspace and stability buttress construction, along with other earthworks required on the landfill site and in Gully 3 of the landfill designation.
3.9 The NTRLBU finances to the end of December 2021 show a surplus of $1.75 Million due to the higher than budgeted waste volumes, and lower than expected Unique Emission Factor.
4. Health and Safety
4.1 No significant incidents have occurred at the York Valley Landfill (YVL) during the period.
4.2 Investigations and trials undertaken to reduce risks from vehicle doors (as discussed in previous quarterly reports) have still not identified an effective solution for this risk. This work remains ongoing.
5. Landfill Compactor Issues
5.1 The primary compactor at the landfill has had ongoing failures with a range of components. This month the compactor was unavailable for 36 hours. The secondary compactor owned by NTRLBU is still approximately 2 weeks from being refurbished and back at the landfill.
5.2 An additional back-up machine has been sourced to allow the primary compactor to be taken off site to undergo a significant maintenance overhaul. This is not at the cost of NTRLBU.
5.3 The additional back-up machine has overcome the availability issues with the primary compactor, but the landfill remains vulnerable to compactor failure until NTRLBUs secondary compactor is returned to site.
6. NTRLBU Activities
6.1 It has continued to be very busy for NTRLBU staff, and there have been several issues and projects that have needed to be managed in addition to the normal operations.
6.1.1 The site wide earthworks consent has been granted.
6.1.2 The eastern side landslide has been remediated.
6.1.3 Gas management and due diligence on the hospital boiler and gas management system has been ongoing, with WSP working on this on NTRLBU's behalf. This project is covered by a separate item on the NTRLBU meeting agenda.
6.1.4 The review and alignment of the NTRLBU and NRSBU governance frameworks has commenced.
7. Airspace, leachate and Stability upgrade
7.1 The airspace works are underway with earthworks machinery onsite. The works have moved a significant amount of material and some airspace gains have been made. The recent stable weather has assisted with this work.
7.2 The landfill fill plan has been revised to allow continued earthworks on the southwestern side of the landfill to facilitate gaining the most airspace possible. This work is progressing well.
7.3 Geotechnical stabilisation works have been implemented along the southern boundary of the Landfill to ensure that the earthworks do not affect the stability of neighbouring property.
7.4 The design of the upper leachate improvements has been undertaken and cost estimates are being sought from contractors for the works based on the draft design.
7.5 The first stages of the buttress geotechnical stability assessments have been completed and the buttress earthworks design for the upper buttress area has been completed.
7.6 The earthworks contractor will begin the top level of the buttress construction in areas above the upper leachate drains over the next 4 weeks once the gas services have been relocated. It is hoped that the stable weather will hold to allow ongoing work on the buttress during the early winter.
8. Odour Management
8.1 One neighbour contacted the NTRLBU regarding an odour observation during this period.
8.2 The GM has initiated routine odour assessments by the landfill operators, the GM, and an independent odour assessor. These assessments involve the person driving to key locations alongside the landfill to assess whether odour from the landfill can be detected, how intense and unpleasant this odour is. NTRLBU is taking odour seriously and wants to have clear information on what odours there are, when they occur, and where they occur, so that action can be taken to mitigate them.
8.3 At this time no landfill odours have been observed outside the landfill by the operators or the GM during these visits.
8.4 These visits also include noise observations to identify whether there is noise from the landfill operations.
9. Stormwater Management
9.1 The construction of SRP1 and the upgraded eastern side stormwater drains is nearing completion. Construction will be at the point that the pond can be used in approximately 4 weeks
9.2 The design of the western side dirty water drain has been reviewed but due to the steep terrain the design has been difficult to complete. NTRLBU has installed temporary flexible pipes to prevent scouring during rainfall. Observations during the last rainfall event have shown this to be working effectively.
9.3 The new wheel wash construction has been completed and is in use. The wheel wash has significantly reduced the deposition of dirt on the access road and will prevent dirt reaching public roads.
10. Litter Management
10.1 There were no litter complaints during this period.
10.2 The new litter catch fences are in use and are significantly reducing the amount of litter being blown around in the landfill, however further improvements are ongoing and additional catch fences will be required. NTRLBU has used the current years capex budget for catch fences.
10.3 Now that the palisade wall to improve the geotechnical stability has been installed, NTRLBU will begin the design of the site exterior catchfence.
11. Emission management
11.1 The new York Valley enclosed flare is running well, and has combusted 965,000m3 of landfill gas since December 2021.
11.2 The Eves Valley flare is running well however the flowmeter for the system is yet to arrive. This will be installed once it arrives in Nelson.
11.3 The design of the additional gas wells at the York Valley Landfill and the new gas collection ring main have been received. The drilling rig for the installation of the wells is due to start drilling onsite toward the end of May. Drilling through landfill waste is not simple and it is unclear how long the additional gas wells will take to install.
11.4 NTRLBU is working to order all the new gas pipe for the ring main prior to a 15% pipe price increase at the end of May. This order will be for around 1500 m of gas pipe.
12. Emissions Trading Scheme Position
12.1 The ETS unit price has been increasing and is now above $76 per tonne CO2.
12.2 This is significantly higher than projected (NTRLBU AMP assumed a CO2 unit price of $42.50 per NZU for 2022/2023, $47.50 per NZU for 2023/2024 and $50 per NZU from 2024/2025 onwards)
12.3 It is expected that ETS credits will continue to rise in price over the next three years.
12.4 Due to the NTRLBU hedging arrangements, this change in price will not result in budget issues for the 2021/22 year.
12.5 NTRLBU purchased ETS credits to the maximum allowance under the Treasury Policy based on an assumed UEF value.
12.6 Following a review of the UEF for 2021 the new UEF for York Valley Landfill is 0.518.
12.7 Current NZU holding and movements
Units on hand at 30 June 2021 140,909
Purchased October 21 @ $65.40 20,000
Purchased January 2022 @ $69.25 10,000
Purchased February 2022 @ $76.50 10,000
Units on hand February 2022 180,900
Units to surrender for 2021 @ UEF 0.518 40,483
Units on hand 30 March 2022 140,166
12.8 Policy limit - 106,902
12.9 The current holding is 33,564 more units than our policy provides for due to the UEF of 0.518 achieved for 2021 being significantly less than anticipated when purchasing units. This is based on actuals to 30 March 2022 and budget volumes for 2022 and beyond. There is a small risk that volumes of waste received will continue to exceed budget which is likely to be covered by the units in excess of the policy.
12.10 There is significant demand for units from the market and little supply resulting in the market price continuing to rise.
12.11 The first Government auction for 2022 was on the 17 March 2022. There were more bids than the base allocation resulting in 5.7m of the 7m units available for Cost Containment being sold. The settlement price was $70 per unit.
12.12 As discussed during the last NTRLBU meeting the NTRLBU propose to continue maintaining the units beyond the current policy as a hedge against the risks of volumes of waste received, a change in the UEF and the predicted price escalation.
13. Waste Minimisation
13.1 There are three primary activities going on with waste minimisation for NTRLBU at present.
13.2 Battery diversion and recycling.
13.2.1 The number of small battery fire incidents at York Valley has remained reduced over the last quarter. In the last quarter of 2021 NTRLBU experienced 13 fires at York Valley. This reduced to 7 during the first quarter of 2022.
13.2.2 The mass of batteries being disposed has been significant, which is pleasing. 11% of the mass of the batteries diverted were lithium ion batteries, with 7% being Nickel Cadmium. This shows that the campaign is reducing both fire and contamination risk from battery disposal.
13.2.3 The success of the campaign has led to NCC exceeding its budget allowance for battery disposal. In consultation with NCC and TDC officers, the GM has agreed that NTRLBU will fund the disposal cost of batteries for the next 12 months. NCC and TDC will fund the planning and public communications for the campaign. This joint approach will allow the programme to continue to have the high level of public communication it has had over the last 12 months.
13.2.4 The cost of battery disposal is expected to be around $20,000 to $30,000. This funding will allow the region to maintain a focus on this, and hopefully this will further reduce battery fires and the risk of major fires occurring at the landfill.
13.3 NTRLBU waste minimisation activities.
13.3.1 The second significant activity NTRLBU are undertaking is working with NCC and TDC on the review of the Joint Waste Minimisation and Management Plan.
13.3.2 NTRLBU has continued to investigate additional separation works at the landfill. This unfortunately has still not identified a method that is successful and economic. This work is considered work in progress and will continue.
13.4 2022 York Valley SWAP study
13.4.1 The NTRLBU has commissioned the 2022 SWAP study for wastes being received at the York Valley landfill. The swap will assist NCC and TDC with the waste audit required for the JWMMP and will also show any trends or changes in waste composition.
14. Landfill Waste Volumes.
Landfill volumes remain high and have exceeded expected landfill volumes for the year to date.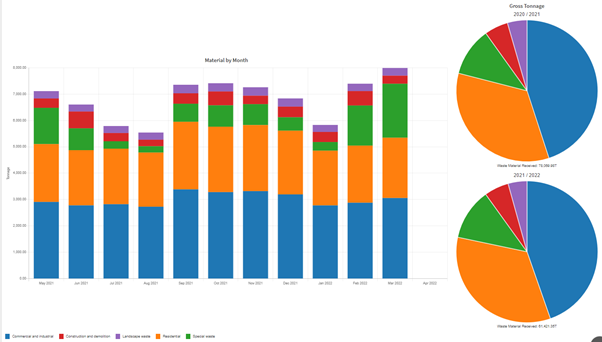 14.1 Waste mass for the 2020/2021 year was 78,069 tonnes. Waste mass for 2021/22 to date have been consistent with the mass received during 2020/21.
15. NTRLBU Finances
15.1 Income Account for the period to 31st March 2022.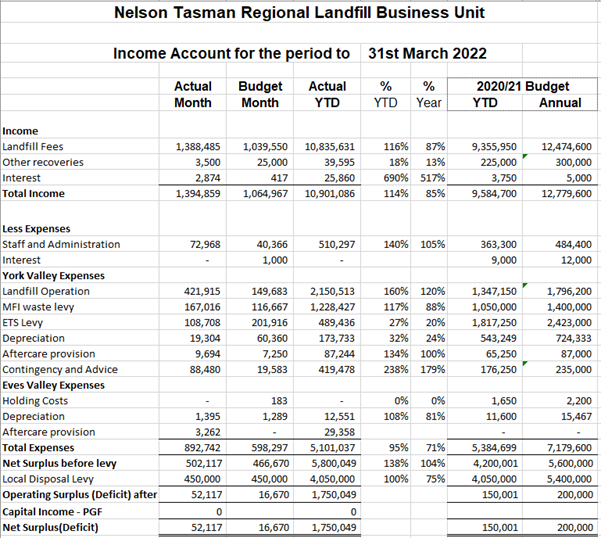 15.2 The finances show an overall surplus for the year to 31 March 2022 is $1,750,049.
15.3 This increased income has come from the increased volume of wastes being received compared to the projected volumes used to generate the budget and from the significantly lower UEF factor achieved for the 2021 year than assumed in the Business Plan.
15.4 Expenses are up compared to budget for a range of items, which is expected due to higher volume of wastes, and consequently the higher Waste Disposal Levy.
15.5 One item that is particularly high for the year to date is consultancy costs. These relate to work on operational consent applications, secondments for activity management support, and support for other items such as the Eves Valley leachate system investigations. While these costs are higher than budget, they are more than compensated by the additional revenue and lower ETS costs.
15.6 Balance Sheet as of 31 March 2022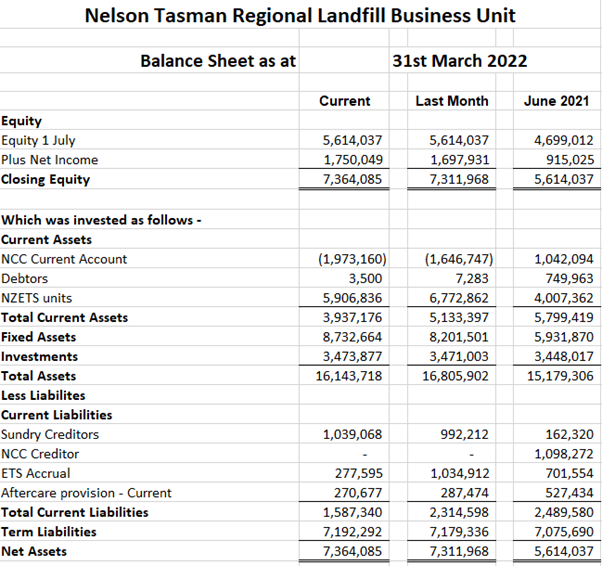 16. Carryover
16.1.1 NTRLBU has continued a challenging renewals and capital expenditure programme during the 2021/22 financial year.
16.1.2 Business unit resource levels are lower than desired to meet the workloads, and whilst assistance has been provided from NCC Capital Projects and external support has been engaged from consultants, delivery timeframes have had to be extended.
16.1.3 COVID continues to have an impact on project deliveries, with lockdowns, material shortages and high contractor workload all affecting progress.
16.1.4 The following table details overall renewals and capital expenditure predicted to the end of June, along with subsequent carryover.
Full Budget

2021/22

Forecast Spend

2021/22

Forecast Carryover

Renewals

Total Renewals

$ 2,709,000

$1,449,081

$ 1,259,919

Capital

Total Capital

$ 3,584,000

$ 3,756,095

$ -172,095
16.1.5 This forecast suggests that NTRLBU will slightly overspend its annual capital budget, however this is based on the Gas Management purchase and on the drilling of additional gas bores in June. Both these activities have begun experiencing delays over the last 2 weeks.
16.1.6 A full expenditure and carryover report will be presented to the board in the first meeting of the 2022/23 financial year
17. NTRLBU Resourcing
17.1 A business case is being prepared to review the structure of NTRLBU to alter the makeup of the Regional Service staff.
17.2 An initial draft has been prepared, however due to workload issues, this draft has not been updated to include feedback at this time.
17.3 The inclusion of feedback, and clarification on questions raised to date will be undertaken as soon as possible and once complete the business case will be submitted to NCC and TDC Managers.
17.4 External consultants have been engaged to assist NTRLBU with both Activity Management support, and capital programme delivery support.
18. Conclusion
18.1 NTRLBU operations have been running reasonably smoothly, albeit issues are occurring with the availability of the compaction machinery onsite.
18.2 Battery diversion works appear to be reducing the frequency of fires at the landfill.
18.3 A significant amount of work has been undertaken towards resolving the stormwater discharge issues, and improvements are being implemented to bring litter management to an appropriate standard, however an infringement notice was received for the short non-compliance from the stormwater system due to the failure of a pump during February.
18.4 Work has started on the airspace and landfill stability work.
18.5 Delivery of the programme of works has been constrained by staff capacity. Additional external resources have been engaged to reduce the constraints.
18.6 The NTRLBU should expect delays in the delivery of some work items due to insufficient staff capacity, and consultancy costs will continue to remain above budget due to external support being required.
Attachments